Artist Statement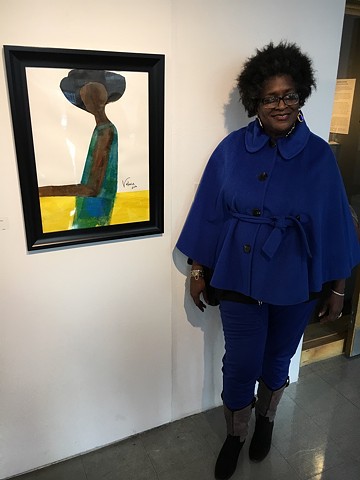 Valerie Brown-Troutt is an Oakland, CA-based self taught artist, educator, activist and pastor born in 1950 in Oakland, California where she's spent the majority of her life living in various East Bay cities.
Something wonderful happen to me during the summer of 1999. I claimed and discovered my artist: Me! I went to several second hand shops and bought old canvas and found thrown away framed pictures and took them apart, covered them with gesso and started a studio on my patio.
I got lost for hours in the dialogue of mixing color, creation, making meaning through images and mediation. Turning old ugly things into something new is so much fun and inexpensive. Messing up, changing my mind and starting all over again satisfied by creative energy.
Art in a variety of forms has always been my passion. I love paintings, poems, theater, jazz, singers, poet, actors and actress, photography, great movie pictures, sculpture, rhetoric, comedy, nature, etc..
My art, often whimsically, intentionally creates what I have missed in my art loving experience, me! For example, I was born into a world that never showed me a lovely black, fat angel, so I painted me some. I am nurtured by and long to see things that look like me, especially my people (whom I love) and my ancestors. This is where it started.
I continue today to address the absence of images that I think are important to the stories of my life and culture. I create to preserve and share with others especially my grandchildren what life is for me presently and while growing up in the 50's and 60's. Many of these images celebrate the core values of my spirituality and codes of the communities of my origins which makes life meaningful for me.




(Photo: TALOB 2017 Exhibition, Richmond Art Center. 'Mama's Gaze: Spoken Words Not Need' 18x24 mixed media)