Bio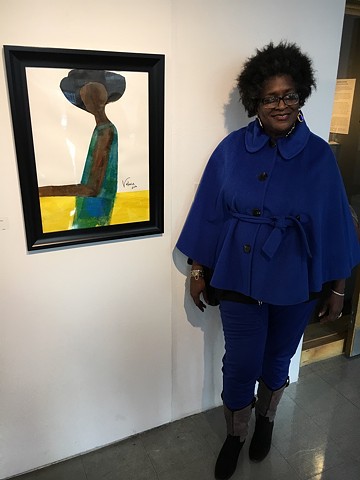 Valerie Brown-Troutt is an Oakland, CA-based self taught artist, educator, activist and pastor born in 1950 in Oakland, California where she's spent the majority of her life living in various East Bay cities.
Valerie shares the life story of struggle of ordinary black women described by Delores Williams as resisting and rising above forces in society…"doing what they always do: holding the family and church together; working for the white folks or teaching school; enduring whatever they must so their children can reach for the stars; keeping hope alive in the family and community when money is scarce a contribution of faith, love and hope to the black family to the church and to the black community in North American." Many of her life's dreams have been actualized including a successful professional career as an educator, social justice activist, entrepreneur, clergy and administrator of non-profit organizations.
Valerie worked as an teacher's aide after high school for the Emeryville Unified School District while completing her Bachelor of Arts in Liberal Studies with a minor in English from the State University of California at Hayward. She completed her teaching credential requirements before completing the BA. Her teaching skills were recognized early and influenced her path towards a career in education as she accepted a professional teaching assignment before her undergraduate work was completed. She is now retired after serving as an educator for intermittently for nearly three decades.
Valerie has been active in social justice work throughout San Francisco Bay Area all of her life, serving on various community and civic boards. Her passion for justice work lead to her obtaining a Master's of Divinity (M.Div.) Graduate Theological Union at Berkeley and Doctorate Degree candidacy at San Francisco Theological Seminary.
Valerie's work to educate the African American community, specifically the Black Church about serving people through community based mental health, housing, advocacy for children with special needs, HIV/AIDS services and care lead to her working within several progressive and leading non-profits organizations including CHANGE, Inc., the Children's Advocacy Center and the Ark of Refuge, Inc..
Valerie is excited about this new season in her life. Her recent retirement affords her the time to devote herself full-time as visual artist working to develop her artistic skills in mixed media and painting, creating an art studio and sharing her art in community.
(Photo: TALOB 2017 Exhibition, Richmond Art Center. 'Mama's Gaze: Spoken Words Not Need' 18x24 mixed media)